TEATRO CRISTIANO
Categoria: Crescita spirituale
Livello: 2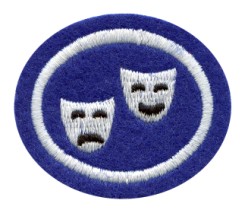 Requisiti:
1. Memorizzare ed applicare 1 Corinzi 10:31 per il raggiungimento di questo distintivo.
2. Descrivere ognuna delle seguenti categorie di teatro:
– Video umani
– Scenette sermone/Sketches teatrali
– Pantomime
– Lettura drammatica/monologo, duetto o gruppo
– Musical/Teatro
3. Descrivere come ognuna di queste aree potrebbe essere usata per raggiungere delle persone per Dio.
4. Conoscere le seguenti regole della recitazione:
– Non volgere mai le spalle al pubblico.
– Parlare lentamente durante una battuta e velocemente tra una battuta e l'altra (non devono esserci tempi morti tra due personaggi che parlano).
– Enunciare e pronunciare le parole chiaramente (a meno che non sia affermato diversamente nel copione).
– Non assumere prodotti caseari o dolci (cioccolato, bibite gassate) prima di recitare o cantare.
– Mantenersi nel personaggio (non ridere o sorridere a meno che non sia affermato nel copione).
– Stare nel proprio spazio (a meno che non sia affermato nel copione di spostarsi).
– Non nascondere altri personaggi dal pubblico.
– Usare le mani e gli occhi.
– Non c'è alcuna altra cosa al di sopra della recitazione.
– Nulla deve ostruire la bocca (gomma da masticare o altro se non diversamente indicato).
5. Conoscere e capire perché sono importanti le seguenti regole della pantomima. Applicare queste regole ad una semplice storia biblica.
– L'uso della pantomima come ministero di evangelizzazione non dovrebbe mai essere un gioco di indovinelli. Dovrebbe indicare chiaramente il tema.
– È importante ricordare che nell'opera teatrale, il pensiero giunge prima. Lasciate rispondere prima i tuoi occhi, poi il resto del tuo viso e della testa, e in ultimo il resto del tuo corpo. Questa viene chiamata sequenza motivata.
– Le vostre azioni dovrebbero essere semplici e nette.
– Ogni movimento ed espressione dovrebbe essere sempre visibile.
– Ci dovrebbe essere un motivo per ogni gesto e movimento.
– Dovrebbe essere effettuato un solo gesto o movimento alla volta.
– Provare fino a creare una caratterizzazione chiara.
6. Conoscere la seguente terminologia teatrale:
– Ad-lib / Ad-libitum (a piacere/improvvisazione).
– Backstage / Dietro le quinte.
– Cross (due o più scene eseguite sul palco contemporaneamente).
– Cue / Battuta d'entrata o suggerimento (la battuta di un attore che precede immediatamente e serve come promemoria per qualche azione).
– Downstage / Proscenio (la parte anteriore del palco più vicina al pubblico).
– Exit / Uscita.
– Getting up in part / Stare nella parte.
– Holding it / Mantenerla.
– Left and Right / Sinistra e Destra.
– Left Center and Right Center / Centro-sinistra e Centro-destra.
– Set / Scenario (dove si svolge la scena, tutto ciò che ne fa parte).
– Tempo.
– Upstage (la parte posteriore del palco, lontano dal pubblico).
– Upstaging (verso il retro del palcoscenico).
7. Dalle categorie elencate al punto 2, pianificare ed eseguirne due durante un momento di culto in chiesa o nel gruppo giovani.
8. Come gruppo creare una rappresentazione teatrale ed eseguirla.