MAGNETI II
Categoria: Arti e abilità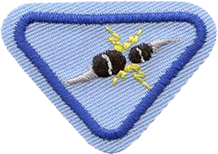 Requisiti:
1. Avere acquisito il distintivo di Magneti I.
2. Gioca con due magneti, facendoli attrarre a vicenda e repellendosi. Tutti i magneti hanno un polo ______________ e uno __________________. I poli opposti si attraggono, i poli uguali si respingono.
3. Forma un elettromagnete.
4. Usa una bussola per trovare gli otto punti cardinali. Disegnali su una rosa dei venti.
5. Costruisci una bussola con un magnete, una bacinella d'acqua, un ago grosso per cucire, una fetta di sughero (o carta da forno), cera di una candela e un compasso.
6. Cosa accade quando si lascia cadere un magnete?
7. Impara Proverbi 18:24- "Chi ha molti amici può esserne sopraffatto, ma c'è un amico che è più affezionato di un fratello".
Chi ci ama così tanto che ci resterà più vicino di un vero fratello?
In effetti, Gesù è il nostro fratello perché Suo Padre è anche nostro Padre. Lui è il nostro migliore amico.
"Anche se siamo tutti diversi, possiamo ancora essere attratti da Dio e tra di noi quando abbiamo in mente un obiettivo: Il cielo e compiacere Gesù".
Scopo: Imparare del magnetismo e della lezione che ne ricaviamo di come dobbiamo tutti restare uniti e puntare a Dio quando siamo Suoi.
Connessione al curriculum: Il mio mondo
Risorse:
www.enchantedlearning.com
The Complete Book of Science for Grades 3 & 4 p. 265-280, by American Publishing Man and Machines
World Book Encyclopedia, Vol. M.
The Book of Knowledge
The Book of Popular Science, Vol. 8, pp. 142-150.